Office Hours
Monday-Friday: 8:00 am – 4:30 pm
Corporate Headquarters
Scottsdale
3126 N. Civic Center Plaza
Scottsdale, AZ 85251
North Scottsdale
20401 N. 73rd Street, Suite 155
Scottsdale, AZ 85255
North Mountain
9250 N. 3rd St.
Suite 1003
Phoenix, AZ 85020
Fountain Hills
16838 E. Palisades Blvd. Bldg. C, Suite 152A Fountain Hills, AZ 85268
.
Deer Valley
19636 N. 27th Ave.
Suite 306
Phoenix, AZ 85027
.
West Valley
10240 W. Indian School Road Suite 115Phoenix, AZ 85037
Sonoran Crossing
33300 N. 32nd Avenue, Suite 101
Phoenix, AZ 85085
Tucson
3172 N. Swan Road
Tucson, AZ 85712
Use the form to request an appointment.
We will call you to confirm.
Cancellation Policy: To avoid a $50 fee, notify us at least 24 hours prior to your appointment to cancel or reschedule.
We stand for excellence and set the standard for advanced techniques in orthopaedic surgery and fast track rehab to get our patients up and moving quickly and safely.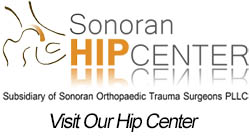 Scottsdale
3126 N. Civic Center Plaza Scottsdale, AZ 85251
FAX (480) 874-2041
info@sonoranortho.com