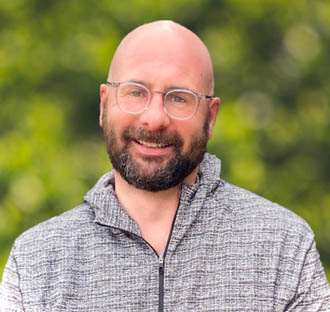 Specialties: Trauma and Fracture Care, Adult Reconstructive Surgery
Dr. Frank joins Sonoran Orthopaedic Trauma Surgeons. He completed his bachelor's degree and post-baccalaureate pre-med program at State University of New York, Purchase College in Purchase, NY. He received his medical degree from the University of Pittsburgh School of Medicine in Pittsburgh, PA followed by Orthopaedic Residency at NJ Medical School/ Rutgers University. Subsequent to completing his residency, Dr. Frank served as an orthopaedic surgeon in the United States Air Force and was deployed to Afghanistan in 2013 as part of Operation Enduring Freedom. After four years of service to his country Dr. Frank embarked on fellowship training in Orthopaedic Traumatology and Adult Reconstruction under the tutelage of Dr. Roy Sanders at the Florida Orthopaedic Institute/ Tampa General Hospital in Tampa, FL.
Before joining SOTS, Dr. Frank worked for in North Mississippi as an orthopaedic surgeon specializing in trauma, including complex fractures of the pelvis and acetabulum as well as complex revision arthroplasty of the hip and knee. He continues to have a passion for fracture surgery as well as joint replacement of the shoulder, hip, and knee. He has experience in anterior hip replacements, robotic hip and knee replacements, revision hip and knee replacements, and complex fractures of both upper and lower extremities including the hip and pelvis.
Fellowships & Certifications

Board Certified in Orthopaedic Surgery

Orthopaedic Trauma Fellowship & Post-traumatic Reconstruction Fellowship – Florida Orthopaedic Institute/Tampa General Hospital
Faculty Positions & Associations

Fellow of the American Academy of Orthopaedic Surgeons

Orthopaedic Trauma Association

Global War on Terrorism Expeditionary Medal

Global War on Terrorism Service Medal

Air Force Expeditionary Service Ribbon


Meritorious Unit Award 455th Air Expeditionary Wing

Afghanistan Campaign Medal
Dr. Frank serves these locations:
North Mountain
9250 N. 3rd Street, Suite 1003
Phoenix, AZ  85020-2402
Tucson
3172 N. Swan Road 
Tucson, AZ 85712
We stand for excellence and set the standard for advanced techniques in orthopaedic surgery and fast track rehab to get our patients up and moving quickly and safely.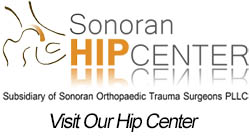 Scottsdale
3126 N. Civic Center Plaza Scottsdale, AZ 85251
FAX (480) 874-2041
info@sonoranortho.com