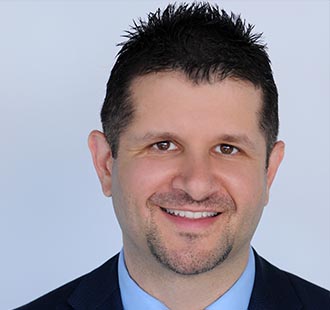 Dr. Ziran joins Sonoran Orthopaedic Trauma Surgeons in February 2021. Dr. Ziran received his medical degree in 2000 from Case Western Reserve University School of Medicine in Cleveland, Ohio. He completed his residency at the University of Rochester, New York. Dr. Ziran has completed three fellowships.
Dr. Navid Ziran specializes in orthopedic trauma surgery, including surgery of the pelvic/acetabular trauma (fractures of the pelvis and hip joint), and anterior approach (AA) total hip replacement. He believes in educating and empowering patients so they can make their own informed decision about their care. Surgery is not "pushed" on the patient since patients know their bodies best. He believes in the added value of Eastern medicine when combined with Western technology.
Fellowships & Certifications
Board Certified in Orthopaedic Surgery
Fundacion de Santa Fé Hospital, Bogota Columbia; AO/ASIF Fellowship
Denver Health Medical Center, Denver Colorado; Orthopaedic Trauma Fellowship
Joel Matta: Innovator of AA Total Hip Replacement, Los Angeles, CA; Pelvic/Acetabular Reconstruction and Anterior Approach Total Hip Arthroplasty Fellowship
Faculty Positions and Associations
Fellow of American College of Surgeons (FACS)
Fellow of American Academy of Orthopaedic Surgeons (FAAOS)
Fellow of American Association of Hip and Knee Surgeons
Fellow of Anterior Hip Foundation
AO North America (AONA) Faculty Member
California Orthopaedic Association
Arizona Orthopaedic Society
Active Member Orthopaedic Trauma Association (OTA)
AONA Alumni Association
• Super Doctor in Los Angeles Magazine for 2016, 2017, and 2018
• Leaders in Joint Replacement Generation Next Award by Orthopaedics today and DepuySynthes, 2013
• Best fellow research presentation. Denver Health Medical Center, University of Colorado Health Sciences Center, 2008
• Orthopaedic Research Education Foundation (OREF) Charles H. Herndon Residency Award, Musculoskeletal Transplant Foundation, 2002.  
Dr. Ziran serves these locations:
North Mountain
9250 N. 3rd St. Suite 1003
Phoenix, AZ 85020
Sonoran Crossing
33300 N. 32nd Avenue, Suite 101
Phoenix, AZ 85085
Tucson
3172 N. Swan Road 
Tucson, AZ 85712
We stand for excellence and set the standard for advanced techniques in orthopaedic surgery and fast track rehab to get our patients up and moving quickly and safely.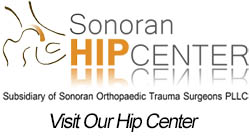 Scottsdale
3126 N. Civic Center Plaza Scottsdale, AZ 85251
FAX (480) 874-2041
info@sonoranortho.com